Congratulations to the graduating class of Business Volunteers Maryland's GIVE Fellowship. On Friday, November 13, 2020, Business Volunteers will host a virtual celebration to recognize forty-six rising professionals who amplified their civic engagement, deepened their relationship with Baltimore, and connected with community leaders from across the region. The 2020 class of GIVE will join a network of 450+ GIVE alumni.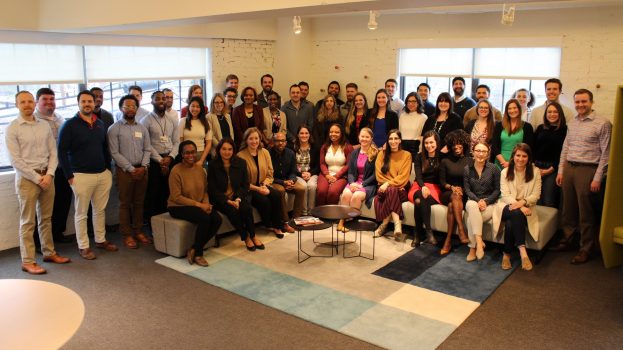 When Business Volunteers transformed the fellowship into a virtual experience due to COVID-19, the GIVE Advisory Projects (GAP) remained a core component of the program. The GAP connected nonprofits with GIVE fellows who served as skilled volunteers over a six-month period. From conducting interviews to participating in volunteer activities, GIVE Fellows worked in small teams to learn about their nonprofit partner, the community served by the organization, and the challenges faced by the nonprofit's leaders. Teams were paired with a GIVE alumnus who served as their project mentor as fellows followed a collaborative process. Each year, GAP teams develop recommendations and solutions that increased nonprofits' capacity to do good. better.
This year's GIVE fellows were introduced to collective impact practices and partnered with organizations committed to strengthening Baltimore for youth. GIVE fellows will present their projects with their teams during graduation.
Our graduating fellows, their GAP teams, and the alumni mentors are presented below.
2020 GIVE Advisory Project Teams
Works to improve vacant lots, conduct scientific research, and help conserve Baltimore's greenspace/wildlife through community engagement. 
Alec Mitchell, CBRE, Inc.
Brian Lasan, City of Baltimore
Jessica Duvall, Rosenberg Martin Greenberg LLP
Rebecca Moschina, Continental Realty Corporation
Zainab Farhat, Annie E. Casey Foundation
Project Mentor: Kaitlin Brennan (GIVE 2019)
Community Law In Action (CLIA) 
Develops young people to be leaders and advocates to advance positive community change through public policy.  
Ashley Monroe, BGE
Benjamin Fertig
Jesse Haladay, T. Rowe Price
Michael Mercado, Northrop Grumman
Sandra Herrera
Project Mentor: Samantha Myrick (GIVE 2019)
HASA (The Hearing & Speech Agency) 
Connects people to their worlds through hearing and speech-language services, interpreting, and education.  
Aaron Nichols, Whiteford, Taylor & Preston
Lauren Novsak, Business Volunteers Maryland
Tamara Arnold, Baltimore Corps
Timothy Sugrue, PWC
Project Mentor: Ashley Webb (GIVE 2014)
Builds mentoring relationships that empower first-generation students from low-income communities to graduate high school, succeed in college, and achieve their ambition.  
Aaron Fishbein, Transamerica
Alicia Dennis, CohnReznick LLP
Emily Plahanski, SIG
Molly Hayeslip, Baltimore Collegetown Network
Project Mentor: Jhonell Campbell (GIVE 2017)
Improving Education (Bedtime in A Box) 
An initiative of Improving Education, Bedtime in A Box partners with community institutions to distribute a curated package of components designed to increase regular and routine exposure to literacy.  
Brian Gordon, Brown Advisory Inc.
Catherine Patterson, de Beaumont Foundation
Elie Calm Gorfine, Schiller & Gardyn PA
Jennifer Bove, Atapco Financial Services, Inc.
Meagan Mallen, Cristo Rey Jesuit High School
Project Mentor: Craig Heron (GIVE 2017)
Provides students from both Public and Private schools with widely different life experiences the opportunity to work together toward a common goal.  
Angela Bossle, Prometric
Brett Sanders, PwC
Eryn Lessard, KIPP Baltimore
Kyle Jenson, M&T Bank
Project Mentor: Austin Tremblay (GIVE 2018)
Provides a safe space, resources for health, and an environment for continued personal growth. 
Beth H. McGuire, BGE
Kevin Shields, Harborside Group
Moe Shoots, Baltimore Ravens
Rachel Feldman, Pearlstone
Tatiana Beato, Erickson Living
Project Mentor: Rachel Thompson (GIVE 2019)
Patterson Park Public Charter School, Inc. 
Provides a community-centered learning environment that values diversity and embraces a whole child approach to develop well-educated citizens.   
Alex Chiang, SimplyAgree
Amanda Parsley, State Employees Credit Union (SECU)
Jheannelle Laguerre, Exelon Corporation
Stephen Pfaffenhauser, T. Rowe Price
Project Mentor: Colleen Helak (GIVE 2019)
Educates young people about healthy and unhealthy relationships to empower them to identify and avoid abuse and learn how to love better.  
Amanda Chong, Gordon Feinblatt LLC
Benjamin Suttman, Under Armour
Derrick Pendleton, Legg Mason
Jamie Nash, Think Stack
Katie Blacketor, Mindgrub Technologies
Project Mentor: Kelly Tallant (GIVE 2018)
Advances a holistic approach to well-being that strengthens the community's commitment to healthy living, youth development and social responsibility.  
Callie Tucker, Kramon & Graham, PA
Colin Kendall, SC&H Group
Joseph Creamer, Planit Advertising, Inc.
Laura Collins, Baker, Donelson, Bearman, Caldwell & Berkowitz, P.C.
Trena Oakley, Sontiq, Inc.
Project Mentor: Krystina Wales (GIVE 2018)
Applying for the 2021 GIVE Fellowship
Are you interested in learning more about the GIVE Fellowship? Would you like to nominate an individual for the 2021 class? Complete this interest form. Applications for the 2021 GIVE Fellowship will open in December.
About the GIVE Fellowship
GIVE is a multi-month fellowship offered through Business Volunteers Maryland that prepares rising leaders in Baltimore for civic engagement and community leadership. Over 125 companies in Baltimore have committed to community engagement through sponsoring GIVE fellows. To learn more, visit the GIVE program page.
About Business Volunteers Maryland
Business Volunteers Maryland works with regional employers to build strategic connections between businesses, professionals and the nonprofit community.  Business Volunteers consults with businesses, trains and places business professionals on nonprofit boards; develops civic leaders; manages and matches teams with meaningful skilled and direct service volunteer opportunities; creates partnerships between companies and the community, and much more.