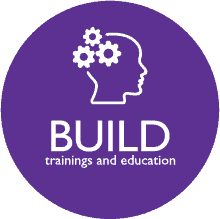 All of our programs and services have been adapted to provide a virtual experience
The Business Volunteers BUILD series offers a wide variety of public and in house workshops to better prepare businesses, individuals, and community organizations to expand their impact and do good. better.
What We Offer
Our menu of workshop options offer opportunities to build knowledge and skills in four areas:
boardBUILD: to support employees interested in, or looking to develop their knowledge, skills, and impact in

nonprofit board service

skillBUILD: to develop

knowledge and professional skills

transferrable between the workplace and civic leadership positions
businessBUILD: to support strategy and best practices for

corporate community impact

communityBUILD: to build

capacity of nonprofits

and community organizations
 Current workshop titles include, but are not limited to, the options below. 
boardBUILD: Overview- for those exploring nonprofit board service
boardBUILD: Fundamentals – 3 hour intensive workshop for new and experienced board members
boardBUILD: Conflict of Interest- specialized training
skillBUILD: (series titles change annually)
businessBUILD: A Blueprint for Strategic Corporate Community Engagement
businessBUILD: Launching an Employee Volunteer Committee
communityBUILD: Developing Strategic Corporate Partnerships 
communityBUILD: Engaging Corporate Volunteers
In House and Custom Trainings
Any of our BUILD trainings can also be offered IN HOUSE to businesses and organizations, and can be tailored to meet the needs of your specific company and goals.
For more information, please contact Business Volunteers at [email protected] or 410.366.6030