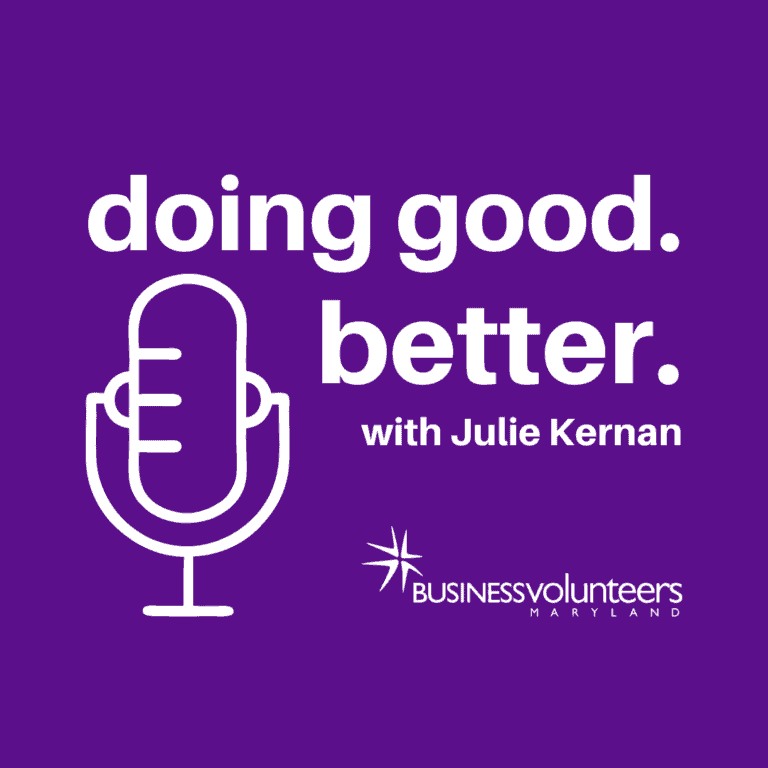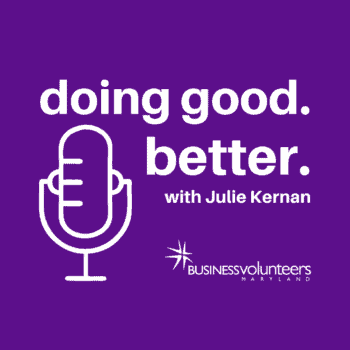 ABOUT DOING GOOD. BETTER.
Julie Kernan, President and CEO of Business Volunteers Maryland, sits down with community engagement champions for micro conversations about how they do good, better in the Region. Julie will uncover what drives these leaders to give back through witty stories and reflections. You will get to know some of the most recognized faces in the community on a completely different level in these engaging chats.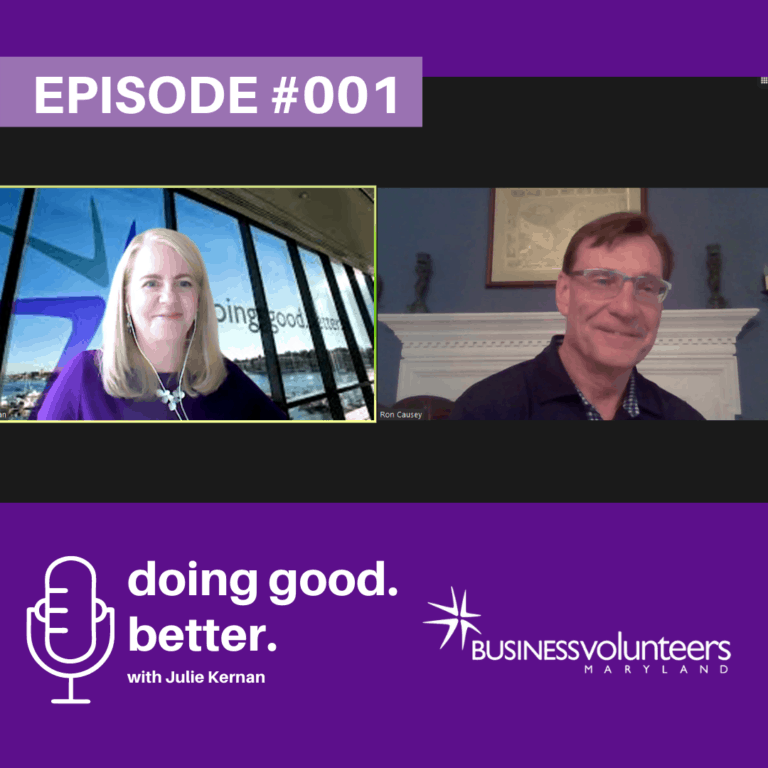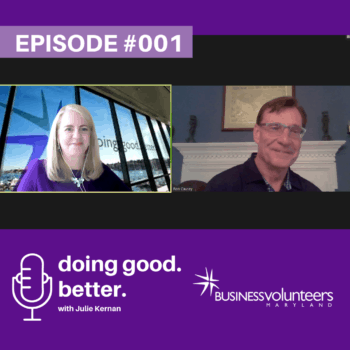 EPISODE #001 | Ron Causey
In the inaugural episode, Julie sits down with Ron Causey, founder of SC&H Group and chair of the Business Volunteers Maryland Board of Directors. Ron discusses how he began his personal community engagement journey which culminated in service to seven nonprofit boards. He also shares advice on how to begin community engagement initiatives within your own organization.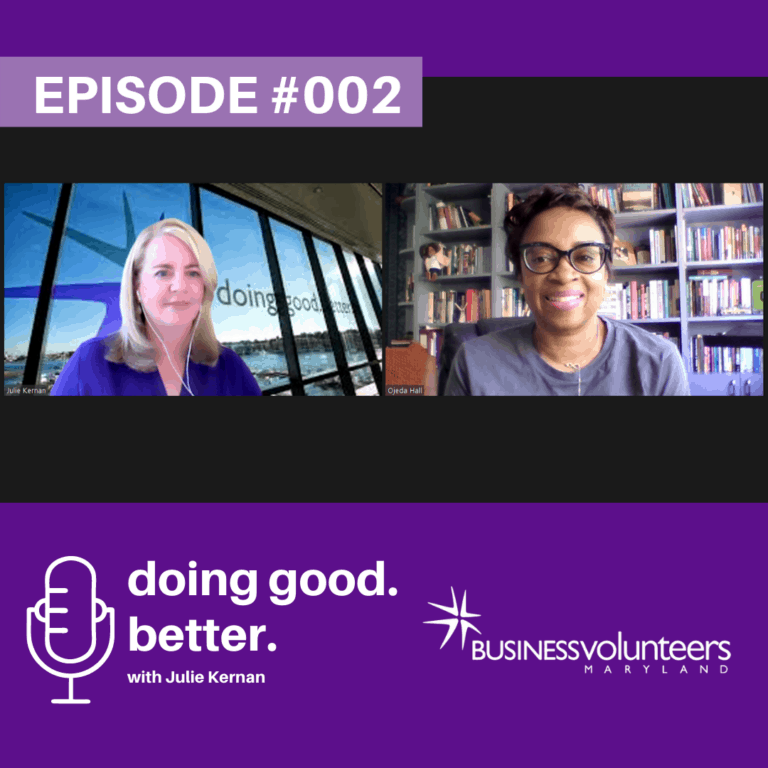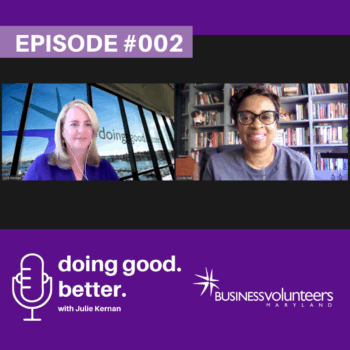 EPISODE #002 | Ojeda Hall
In our second episode, Julie sits down with Ojeda Hall, Executive Director, Maryland, D.C. & Virginia, One Love Foundation. Ojeda shares how the COVID-19 Pandemic has shifted the way she is doing good. better. both personally and professionally. Julie and Ojeda dive deep into how the past year has challenged us in all facets of life- particularly in the arena related to belonging, diversity, equity, and inclusion. They close out their discussion recapping the legacy of Yeardley Love and how individuals and the community can Move for Love during their Yards for Yeardley Fundraising campaign that concludes on May 3, 2021.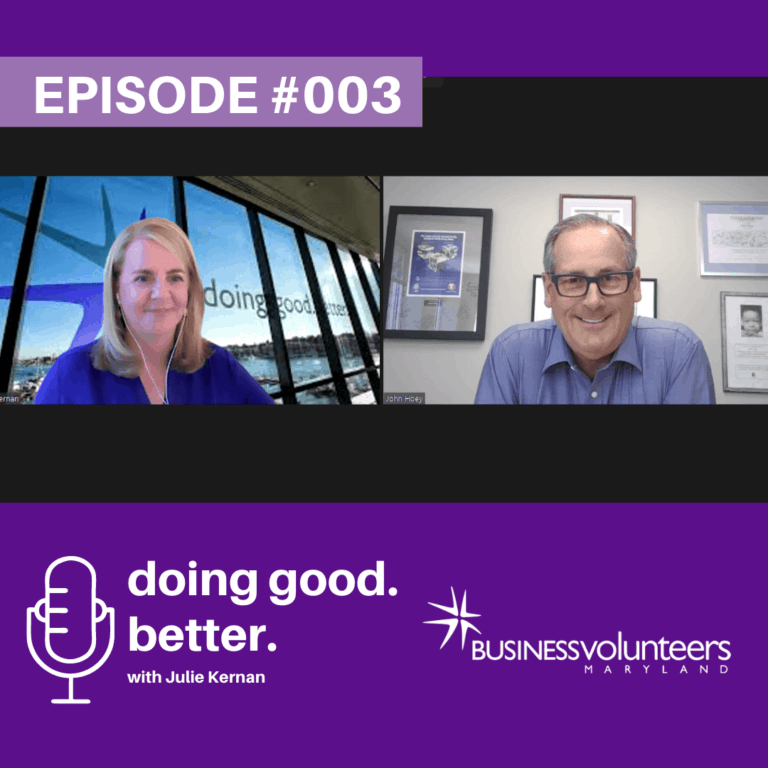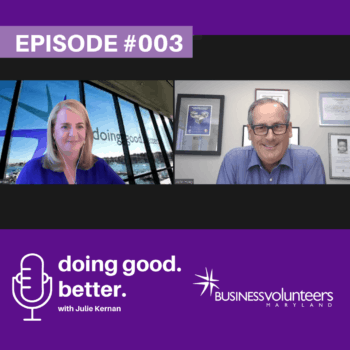 John Hoey, CEO of The Y in Central Maryland and Business Volunteers Maryland Board Member, connects with Julie in a spirited discussion on John's transition from the private sector to leading one of the most recognizable nonprofits in our Region. John shares his perspective on how professional skills and talent can be transferrable to any industry. Finally, he recounts a few weeks in late 2020 that changed the trajectory of the Y in Central Maryland thanks to a rather odd email and a generous multi-million-dollar gift from Mackenzie Scott.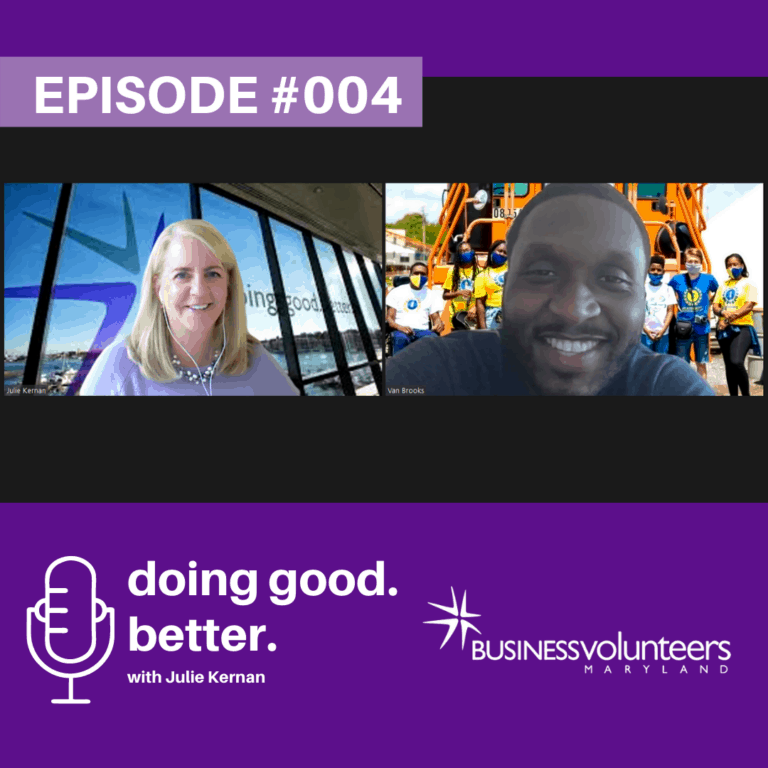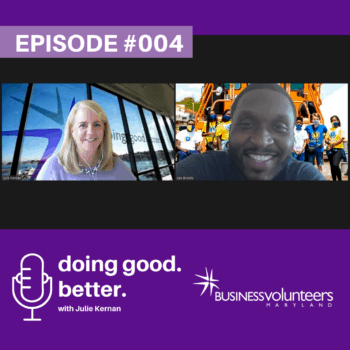 EPISODE #004 | Van Brooks
Van Brooks, Founder of The Safe Alternative Foundation for Education (SAFE), connects with Julie in a thoughtful discussion on how a traumatic high school football injury led Van to begin a youth focused community organization. Van shares how the organization has adapted during the COVID-19 pandemic, providing essential resources for students learning virtually. Finally, Van shares how the organization is planning for the future as they prepare to open a new workforce development center.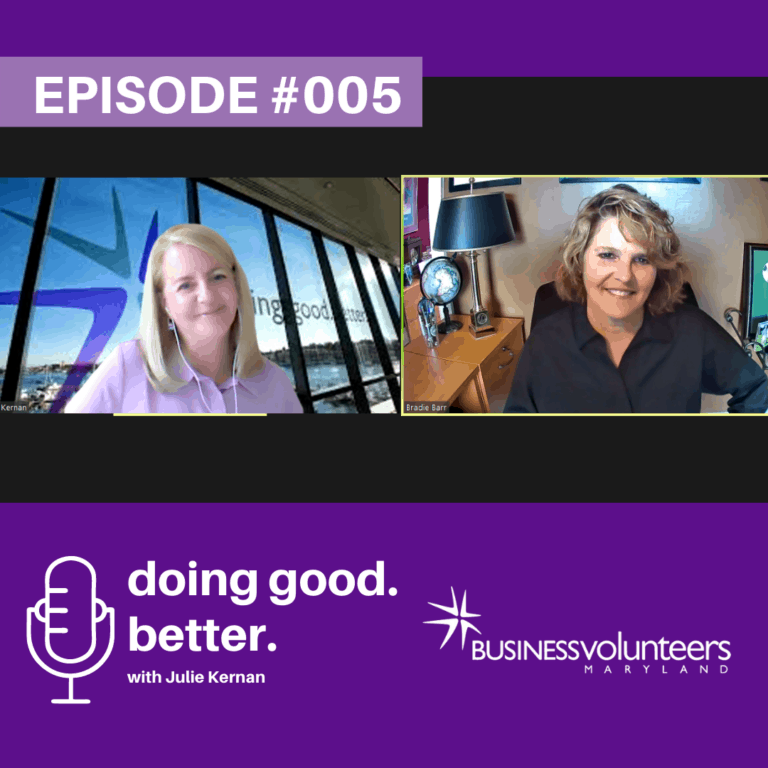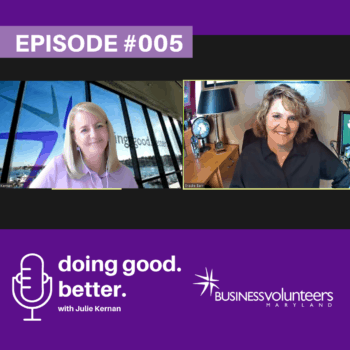 EPISODE #005 | Bradie Barr
Julie sits down with Bradie Barr, President of Transamerica Stable Value Solutions and friend of Business Volunteers Maryland, for a candid conversation around Baltimore, community engagement, board service, and leadership development. Bradie explains how her grandmother inspired her life motto of "see a need, meet a need" and how that has influenced her board interests and other community engagement work. If you are a Baltimore transplant, you want to listen to this episode.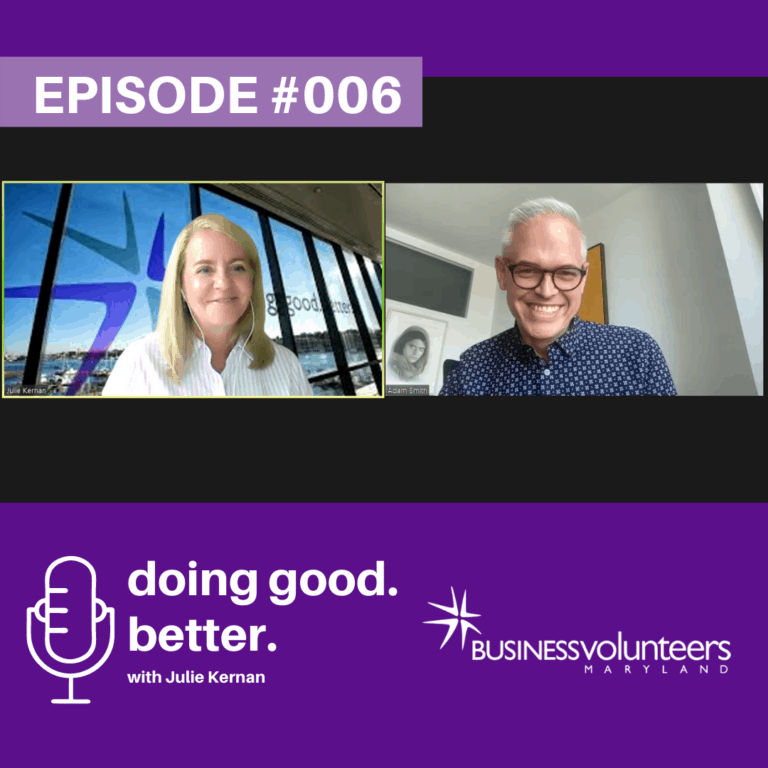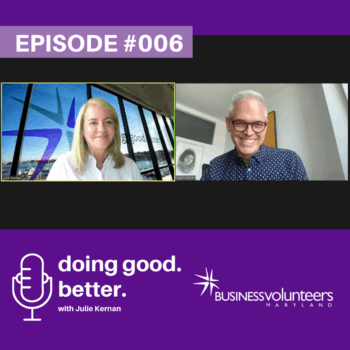 EPISODE #006 | Adam Smith
For nearly 20 years, Laureate International Universities and Business Volunteers Maryland have worked together to make mission aligned connections to Baltimore City Public Schools and nonprofits. Julie sits down with Adam Smith, Vice President of Communications and Public Affairs and Chief Diversity Officer to discuss the roots of our partnership. Adam expands on our joint milestones while sharing how Laureate has navigated a global pandemic and social discourse while still fostering a culture of corporate community engagement.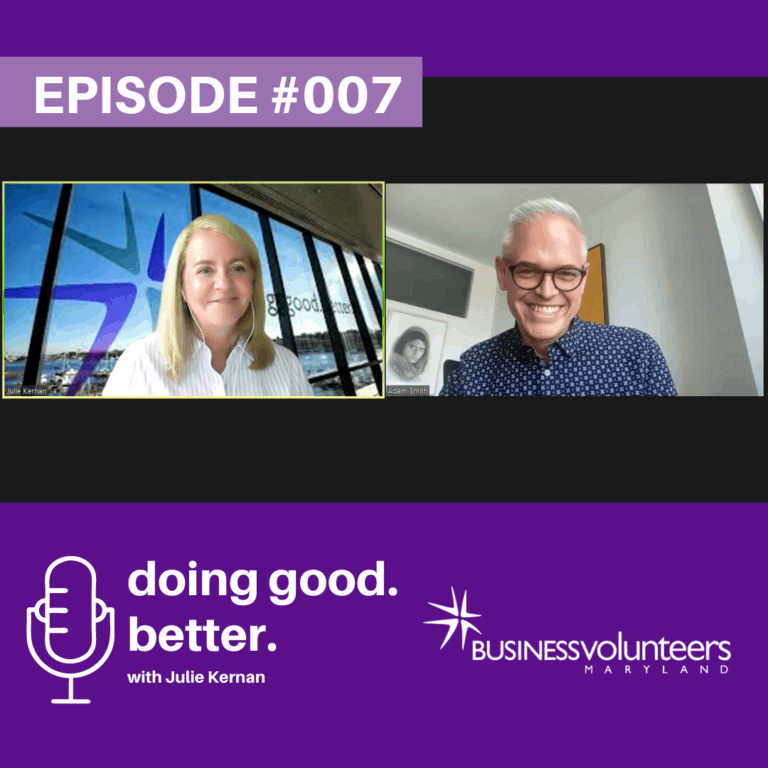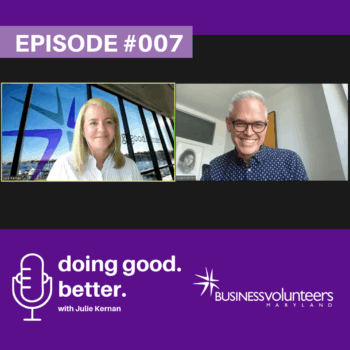 EPISODE #007 | Julie Kernan
Adam Smith, Vice President of Communications and Public Affairs and Chief Diversity Officer at Laureate International Universities takes over as host of doing good. better. Julie is in the 'hot seat' as she shares her reflections of what lead her to Business Volunteers Maryland and what businesses in the Central Maryland Region can get out of mission aligned community engagement strategies. From skilled volunteering to direct service, Business Volunteers Maryland handles all the details. You don't want to miss this conversation between two community champions.