Why work with Business Volunteers?
Business Volunteers helps to build the capacity, network, and resources of community organizations by connecting them to the time, talent, and support of the business community. Through our partnerships with regional companies and their employees, we provide nonprofits and schools FREE and facilitated connections to volunteers, consultants, board members, trainings, partnerships, and more!
ALL ORGANIZATIONS MUST SUBMIT A PROFILE WITH BUSINESS VOLUNTEERS IN ORDER TO RECEIVE ANY SERVICES. 
Click here to access the Nonprofit Profile. 
To leverage the most successful partnership with Business Volunteers Maryland, nonprofits need to understand the process of engaging with the corporate community. Here's how to make sure your organization isn't missing out:
Step 1: Complete Nonprofit Profile
Step 2: Submit your Volunteer and Board Member Needs
Step 3: Attend an Info Session or Free Capacity Building Training
Step 1: Complete Nonprofit Profile
Required first step to a partnership with Business Volunteers! We do not assist nonprofits who are not registered in our system. Nonprofits seeking board members must complete a Nonprofit Profile. Please make sure you complete and update this profile at least once a year or after any major change. Click here to access the Nonprofit Profile. 
Step 2: Submit your Volunteer and Board Member Needs
Step 3: Attend an Info Session or Free Capacity Building Training
After you complete a nonprofit profile, your organization is eligible to request volunteers and new board members. See below for more information and request forms.
Direct Service Volunteer Needs
communityCONNECT brings groups of corporate volunteers to your organization in a "done in a day" direct service group volunteering event. Events can range from 10 to hundreds of volunteers and include activities such as beautification, environmental work, supply sorting, tutoring, mock interviews, meal preparation, and more. 

The form should be completed regularly with new or updated service project information so that BVM staff remains up to date with your availability. 
This form linked below captures interest in participating in one of BVM's opportunities to receive pro bono consultation.
This is designed to capture your organization's BUSINESS CHALLENGES (not program challenges!) that could use support from a group of pro bono consultants with aligned expertise. 
skillCONNECT is a 3-hour event in which nonprofits are paired with small groups of highly skilled employees from a business volunteering their time to serve as consultants. Participating nonprofits can expect to leave the session with fresh takes and ideas on problems they are facing, guidance from experts on productive next steps, and future connections.
Please update as needed to reflect new or ongoing business challenges you would like support on.  
Interested in Tech Support? Our friends at Techies for Good want to help! Scroll down to the bottom of this webpage to see more information about our amazing partners.
Every year, BVM selects 7-10 nonprofits and fiscally sponsored organizations to host a group of GIVE Fellows to serve as long term, pro bono consultants for their organizations.  
Teams of 4-6 GIVE Fellows are matched with a nonprofit for a 5-month period. Each Advisory Team will immerse themselves in a collaborative process with their nonprofit between June and November. GIVE Fellows engage in thought-partnership to understand and address complex organizational challenges impacting nonprofit leaders.
Applications for the 2023 GIVE Advisory Projects are closed. Click the button below to learn more.
In our boardCONSULT program, Business Volunteers works on behalf of professionals seeking board service opportunties to match them to aligned boards. Nonprofits complete a detailed profile about their board that candidates view. We reach out to you with any interested candidate's resume/bio and you determine if you'd like to meet them. This happens year round with referrals emailed to you as they arise. 
boardCONNECT is a round robin style, fast paced, highly popular event to meet with several board candidates during a structured and facilitated format.  boardCONNECT occurs semi-annually, usually in spring and fall. About 10 nonprofit organizations are selected to attend each event based on a variety of factors.  TO EXPRESS INTEREST IN ATTENDING BOARDCONNECT, LOOK FOR EMAILS FROM BVM. Nonprofits MUST have a nonprofit and board profile complete to be considered.  
***In order to receive ANY board matching support from Business Volunteers,  you must complete BOTH a nonprofit profile (linked above) AND a special board profile (linked on the button below).** 
 Leveraging your Partnership
Members of our staff may reach out with aligned ongoing opportunities available for your organization. This includes board member referrals, team volunteer project opportunities, and skilled volunteering opportunities. 
To effectively leverage this partnership, provide timely responses to communication, apply early and often to opportunities, and take advantage of trainings and networking opportunities.
Please note that Business Volunteers staff works on behalf of our corporate partners and their employees to find and match them with community organizations that meet their needs and community engagement goals. Depending on the mission, location, engagement opportunities, size, scope, and stability of your organization, you may receive many referrals or none at all.
Our Programs and Services
At Business Volunteers, we believe in three pillars for corporate community engagement. Explore how your organization can align with us in doing good. better.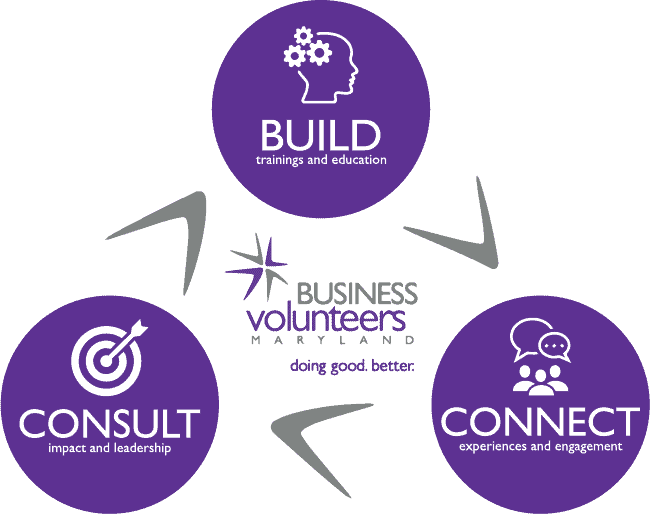 Business Volunteers hosts a variety of free trainings to support nonprofits and their staff. In particular, nonprofits should consider the communityBUILD series aimed at building nonprofit operational capacity, and the skillBUILD series aimed at building individual professional skillsets. 
Visit our events page for a complete annual listing of trainings. 
Through our Team Volunteer Experiences we manage company team volunteering events. Our role ranges from basic support to full-scale management.  
Organizations that can provide ongoing meaningful direct service volunteer projects for large groups are highly desired.  We aim to ensure both a great experience for both the business and community partner, bringing a suite of best practices to support a smooth, rewarding, and impactful event with lasting benefits.  
Skilled Volunteers
Through our skillCONNECT and GIVE Fellowship experiences, we support community partners by providing them with skilled volunteers to help bring their professional expertise to bear on challenges you might be facing.  
Board Matching  
A couple times a year we host boardCONNECT, a round robin style fast paced event to meet with several candidates during one event. 
Board Matching  
Through our ongoing boardCONSULT program, we match business professionals seeking nonprofit board service to organizations seeking board members through a concierge matching and training program.  Over 1000 professionals have been placed on regional boards through this service.  We also host boardCONNECT, a round robin style fast paced event to meet with several candidates a couple times a year.  
Corporate Partnerships  
In all of our connections and events we strive to build lasting relationships between companies and nonprofits. At times this effort is intentional, as we scope nonprofit or school partners that meet company interests and needs.  
Resources  
As opportunities arise, we assist our business partners with distribution and donations of office supplies, goods and services, tickets, gifts, and dollars.  
Interested in Free Tech Help? Join Techies for Good!
Techies for Good is a Baltimore-based Meetup group that pairs techie volunteers with nonprofits in need of technical help. Techies for Good meets every 4 to 8 weeks and provides both educational support and hands-on assistance to nonprofits who need help with their website, database management, technology selection or integration, and more.