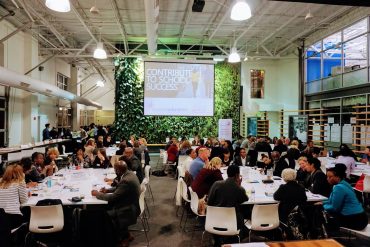 The Business Volunteers' PENCIL Program builds and supports customized relationships between school leaders in Baltimore City schools and partners from the private and civic sectors to support school success.
PARTNERSHIP OPPORTUNITIES FOR SCHOOLS
PENCIL Schools benefit by developing relationships with business partners and individual volunteers who can bring:
Connections to networks & resources
Thought partnership & specialized skills
Hands-on help with projects and events
We make connections for participating schools to volunteers and partners in two main ways:
By creating PENCIL School-Business Partnerships between one business and one school
Through the formation of A+ Advisory Boards, which are groups of 5 to 7 individuals from the business, nonprofit and higher education sectors.
We request a minimum of a two-year commitment from each program partners whether they are a school, a business or an individual.  Business Volunteers supports all schools on a regular basis with access to resources, information and events such as our annual PENCIL conference.
Participation in the PENCIL Program is free-of-charge to Baltimore City schools.
THE SCHOOL COMMITMENT
We are not actively recruiting new schools for the PENCIL Program, but we welcome your interest in future partnership opportunities that may arise.  For more information, please contact us at pencil@businessvolunteersmd.org or 410-366-6030.
School Business Partnerships
| School | Business Partners |
| --- | --- |
| Armistead Gardens Elementary Middle School | Pompeian Olive Oil |
| Benjamin Franklin High School | PricewaterhouseCoopers |
| City Springs Elementary School | CareFirst |
| Commodore John Rogers Elementary Middle School | Transamerica |
| Maree G. Farring Elementary Middle School | Under Armour |
| Westport Academy Elementary Middle School | M&T Bank |
| Wolfe Street Academy | JMI Equity |
A+ Advisory Boards
| | | |
| --- | --- | --- |
| Arlington Elementary Middle School | Gwynns Falls Elementary School | Morrell Park Elementary Middle School |
| Barclay Elementary Middle School | Harford Heights Elementary School | North Bend Elementary Middle School |
| Bay Brook Elementary Middle School | Harlem Park Elementary Middle School | Robert W. Coleman Elementary School |
| Callaway Elementary School | Highlandtown Elementary School #215 | Vanguard Collegiate Middle School |
| Cecil Elementary School | Johnston Square Elementary School | Walter P. Carter Elementary Middle School |
| Excel Academy at Francis M. Wood High School | Lockerman Bundy Elementary School | William Paca Elementary School |
| Glenmount Elementary Middle School | Wildwood EMS | Yorkwood Elementary School |
| Graceland Park /O'Donnell Heights Elementary Middle School | Medfield Heights Elementary School | |