The Business Volunteers BUILD series offers engaging trainings and workshops around board, skill, business, and community development.
boardBUILD trainings support nonprofit board members by developing their knowledge, capacity, and effectiveness
boardBUILD: fundamentals
In boardBUILD: fundamentals, Business Volunteers directs a critical learning experience for professionals who are new or experienced in nonprofit board service. This training provides an important foundation for understanding how to successfully engage with and enhance your board.
This virtual offering will provide attendees with:
a complete understanding of the important differences between the for-profit and nonprofit sectors;
the knowledge of individual roles and responsibilities of members of Boards of Directors;
a comprehensive experience that will focus heavily on the board's role in financial oversight, fiduciary responsibility, and conflict of interest; and
an understanding of the importance of leveraging business acumen and expertise to expand the capacity and capabilities of the nonprofit organization they serve.
Learn the questions to ask to ensure your board and nonprofit are operating effectively, as well as the warning signs that may indicate there is trouble! The training uses a variety of case studies and exercises to provide a relevant and engaging experience, brought to you by Business Volunteers Maryland, a nonprofit organization leading the charge on community engagement.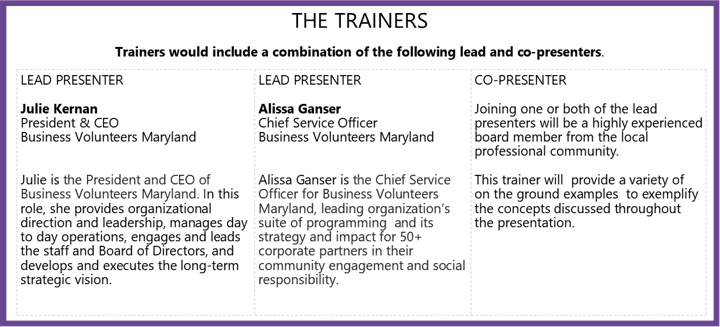 At Business Volunteers we help companies and individuals impact their community in three ways:
BUILD through trainings and education
CONNECT through engagements and experience
CONSULT though impact and leadership
For more information on how Business Volunteers can help you and your company please visit
doing good. better.