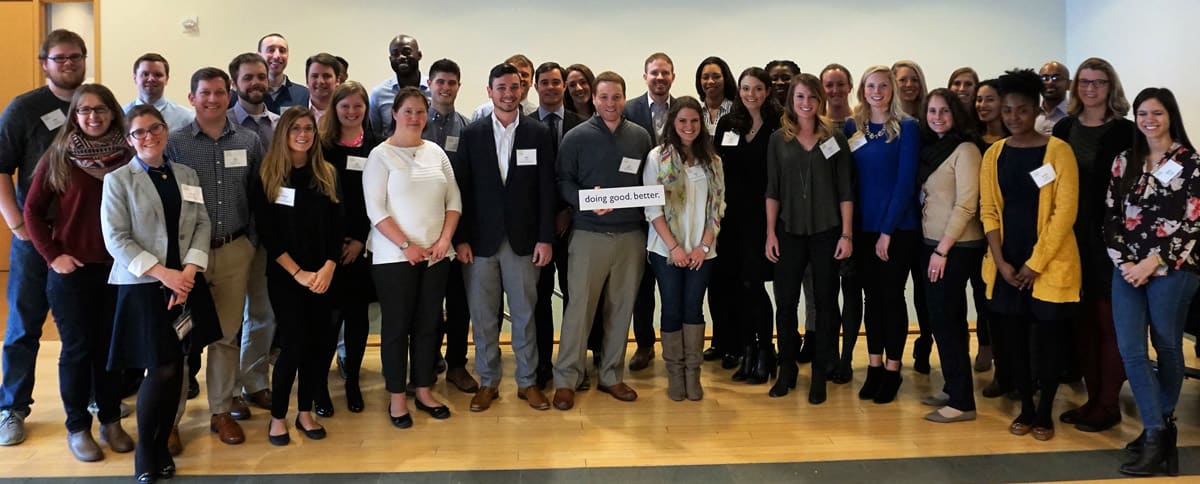 Learn more about GIVE today!
Are you interested in applying to be a GIVE Fellow? Add your name to our interest list to stay up to date on application deadlines.
Know someone who'd make a great GIVE Fellow? Nominate them here.
For questions, please contact GIVE@businessvolunteersmd.org or
410-366-6030.
---
GIVE is a nine month fellowship offered through Business Volunteers Maryland that prepares rising leaders in Baltimore for civic engagement and community leadership. Join over 320 civic-minded professionals who are making a positive impact on the community.
GIVE fellows receive a wealth of knowledge and experiences that will support their professional growth and leadership skills such as:
Networking opportunities with 40 GIVE fellows, over 320 GIVE Alumni, and other community & business leaders.
Hands-on experiences working with a Baltimore nonprofit on a GIVE Advisory Project as a part of the team of fellows.
Increased awareness of key issues facing the communities in the greater Baltimore region.
Enhanced leadership skills developed through a series of monthly workshops and trainings with guest speakers and panelists from the nonprofit and business world.
A transformative experience that will inspire them to take on a greater role in their community.
GIVE Fellows…
Are rising leaders, motivated and passionate about making a difference in their community and career. Our diverse cohort of fellows shares a desire for personal and professional growth and a powerful vision for Baltimore's future.
Are professionals typically ages 25-40.
Are ready to take their community engagement to the next level.
Are diverse in gender, ethnicity, education, profession, & experience.
Are focused on building their personal and professional network in Baltimore.
Have 5-10 hours a month to devote to the program.
GIVE Fellowship Components
Leadership Workshops
GIVE Fellows attend monthly workshops that incorporate either skill development or community learning.  Workshops provide fellows with knowledge and experiences to become more deeply engaged in the community.
GIVE Advisory Projects
GIVE Fellows are divided into teams of 4-6 and matched with a nonprofit. Each Advisory Team will immerse themselves in their nonprofit over a 5-month period to provide ongoing thought partnership and advisory consulting around complex organizational issues and questions. The GIVE Advisory Project exists to expose fellows to the inner-workings and challenges of nonprofits, allow fellows to think creatively and use their skills to support nonprofits, and finally, to empower fellows to engage with nonprofits on a deeper and more dynamic level.
Know a nonprofit who might like to host a GIVE Advisory Project? Check out more details and find the application here.
2018 GIVE Advisory Projects
Baltimore Hunger Project
Baltimore National Heritage Area
Child First Authority
Code in the Schools
Leveling the Playing Field
Restorative Response Baltimore
Trash Free Maryland
Youth in Business (Jubilee Arts)
Networking Events
There are a variety of networking events that GIVE hosts each month including coffee talks with community and business leaders, happy hours, lunch gatherings, and volunteer experiences. Some events are for the current class to get to know one another on a more personal level, however, many events are open to all GIVE alumni to facilitate deeper connections among the GIVE network.
Meet the 2018 GIVE Fellows
Click here to see a roster of our current GIVE fellows.
GIVE Alumni Committee
The GIVE Alumni Committee is comprised of outstanding GIVE alumni who support GIVE by engaging the current fellows and alumni, providing suggestions to improve GIVE  in the future, and recruiting future fellows. Click here to see a list of our GIVE Alumni Committee members.
Participating Employers
Allegis Group
Atapco Properties, Inc.
Baker Donelson
Baltimore Ravens
BBVA Compass Bank
Best Buddies International
Brown Advisory
Business Volunteers Maryland
Brown Advisory
City of Baltimore
CohnReznick LLP
Creative Circle
Cristo Rey Jesuit High School
Food & Beverage Consulting Group
GBMC HealthCare
Gensler
Johns Hopkins Carey Business School
Junior Achievement of Central Maryland
Legg Mason
Levindale Hebrew Geriatric Center & Hospital
M&T Bank
Northrop Grumman
Mission Systems
Notre Dame of Maryland University
Pessin Katz Law, P.A.
SC&H Group, LLC
The Cordish Companies
T. Rowe Price
The Columbia Bank
Transamerica
Tricerat Inc.
University of Maryland Baltimore County
Village Learning Place
Wells Fargo
Whiteford, Taylor & Preston, LLP
______________________________________________________________________________
Jim Brinkley Scholarship
Jim Brinkley is a civic and philanthropic leader and true champion of community change and impact.  Business Volunteers created the Jim Brinkley GIVE Scholarship Fund in recognition of his contributions and leadership in the creation of Business Volunteers. The Fund supports talented young professionals with an opportunity to participate in the program and fulfill their potential to become the next generation of community leaders. We believe it is this group of future leaders who are critical to our ability to address the opportunities and challenges facing our community.
Scholarship applications are due no later than Nov 16 when GIVE applications are due. Scholarship application letters will be reviewed by a selection committee.  All applicants will be notified concerning their status at the time of admission.  Please note that full scholarships are not available. Partial scholarships may be awarded. Our giving capacity is limited and based on need, applicant quality, and availability.